RoSPA Approved Protective Driving Training
Our PROTECTIVE DRIVING TRAINING COURSE has been developed to increase road safety and driving risks awareness. It aims to enhance accident prevention skills for professional drivers working within a Close Protection Team as a Protective / Security Drivers. Our commitment is to raise the Protective Driving standards and ensure that all trainees are adequately equipped to face real-life situations.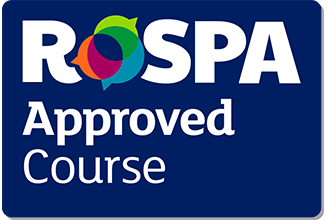 UPON SUCCESSFUL COMPLETION OF THE COURSE, STUDENTS WILL RECEIVE AN INTERNATIONALLY RECOGNIZED PROTECTIVE DRIVER QUALIFICATION WHICH HAS BEEN APPROVED BY THE ROYAL SOCIETY FOR THE PREVENTION OF ACCIDENTS FROM THE UNITED KINGDOM AND ENDORSED AS ENTRY LEVEL BY THE INTERNATIONAL SECURITY DRIVER ASSOCIATION FROM THE UNITED STATES OF AMERICA.
The course is delivered over a three-day period including 24 hours of guided practical and theoretical learning. Students will undertake a programme based on 50% theoretical training and 50% open-road practical training to ensure the knowledge and skills acquired are applied correctly within a real-life context. Our course follows a 4:1 instructor/student ratio to ensure a student-centred learning experience. Our instructors will provide individual daily feedback to the students to enhance their learning experience in a tailored manner.
Understanding risks associated with driving and how to mitigate them accordingly.
Implementing the System of Car Control of the Road-Craft into daily driving in order to achieve a better control of the vehicle.
Learning and understanding how passive and active vehicle safety systems work.
Acquiring new skills in order to prevent unforeseen risky situations and to learn how to react in a secure and safe manner.
Understanding how vehicle dynamics and forces are applied when operating a vehicle and how to react when there is a loss of the grip between the tyres and the road (skidding).
Increasing situational awareness while driving and understanding the principles of evasive driving.
Learning how to implement and carry out anti-ambush and surveillance detection techniques.
Learning the important safety and security principles while driving within a convoy movement.
Download the Course Brochure
Day 1:

Becoming a better driver
Lesson 1: Role of the advanced driver
Lesson 2: Understanding driving risks
Lesson 3: The System of Car Control
Day 2:

Advanced Driving Training
Lesson 1: Vehicle safety systems
Lesson 2: Pre-mission operations
Lesson 3: Advanced Driving Techniques
Day 3:

Protective Driving Training
Lesson 1: Anti-Ambush Techniques
Lesson 2: Protective driving Techniques
Lesson 3: Convoy Driving